Simple Knit & Crochet Potholder Patterns for Beginners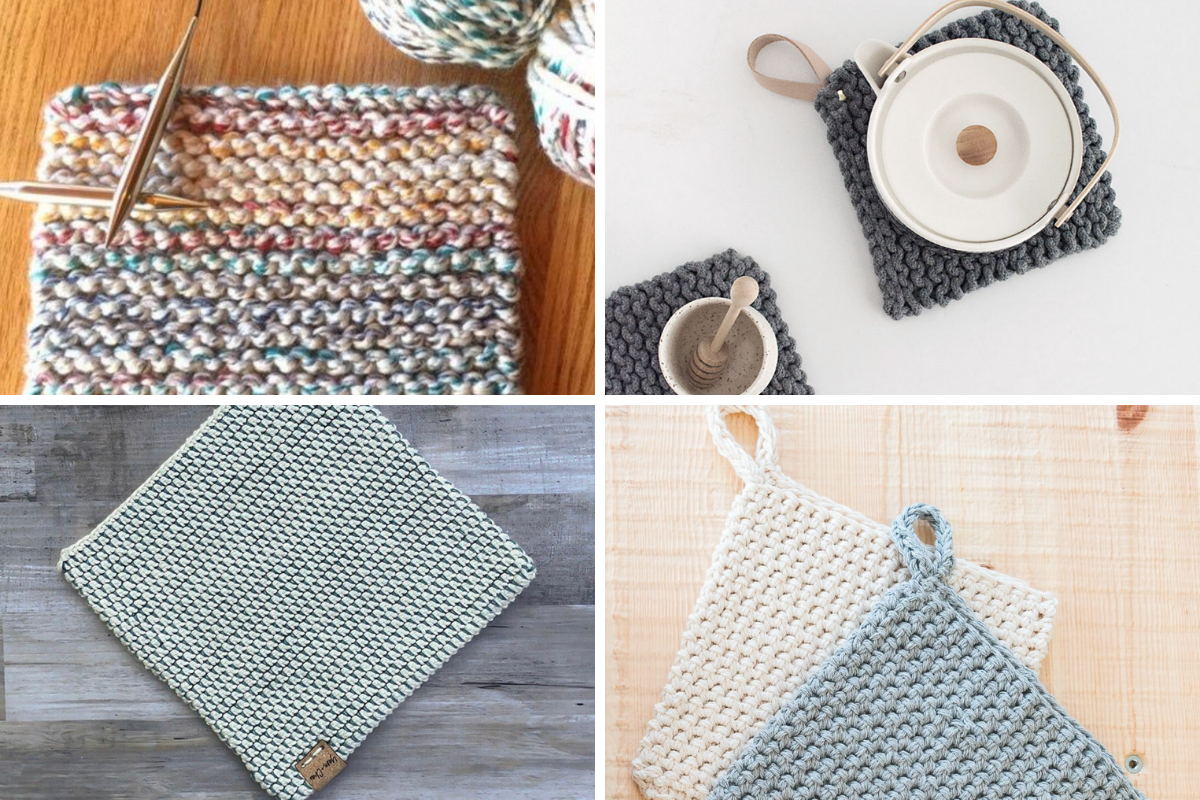 One of our favorite memories of learning how to crochet and knit was making our very first potholder project. What makes them so perfect for beginners are their simple crochet and knit stitches and the end result of a beautiful handmade project that never goes out of style.
But knit and crochet potholders aren't just a beginners project, they make perfect gifts for any cook in your life or a great stash busting project. Plus the easy-to-follow knit and crochet instructions make them ideal for working while catching up on your favorite new series on Netflix. We can't think of anything that these pot holder patterns aren't great for!
Check out our collection of the best free crochet and knit potholder patterns.
CROCHET POTHOLDERS
Mosaic Crochet Potholder by Yarn and Chai
Don't you just love simple and easy to make patterns that are adorable. This Mosaic Potholder pattern by Yarn and Chai is one of our favorite patterns and is extremely simple- just single crochet stitches and spike stitches. How cute could this be in your kitchen colors? You could also make a few towels too! And maybe even a crochet pillow. We're just in love with this beautiful crochet stitch!
Double Thick Crochet Potholders by Sewrella
The holiday season can be a constant reminder that we don't have enough potholders. Seriously, you'd think having six crochet potholders during Thanksgiving and Christmas dinners would be enough but it never is. Why not beat the holiday rush and crochet some great potholder patterns now? 
How cute are the Double Thick Crochet Potholders by Sewrella? It uses a really dense crochet stitch called the thermal stitch that helps to make these crochet potholders very thick and durable. Don't forget to use some great cotton yarn for this crochet project.
KNIT POTHOLDERS
Cherry Candy Cane Potholder by Purls and Pixels
Here's another simple kitchen pattern for those stash busting projects is this fun Cherry Candy Cane Potholder by Purls and Pixels! Made with LB's Wool Ease Thick and Quick Yarn, this crochet pattern stitches up quickly and is easily customizable. We love these colors and will be making a bunch of these for easy anytime gifts!
Knit Potholder by Homey Oh My
If you're a knitter and need a potholder- this knit potholder pattern by Homey Oh My is the perfect chunky pattern that whips up quickly and is seriously so cute! Embellish it with a sweet leather loop and bronze button and you're all set. Make it in any color to match your kitchen decor and you will have some of the trendiest potholders around!
STITCHES NEWSLETTER
So, what do you think? That's just a small sample of some of the amazing crochet, knitting and crafting content you'll find in our daily Stitches Newsletter. 
Looking for more? Check out more samples below of what you can look forward to every day when you sign up for the Stitches Newsletter…
THINGS WE LOVE
Easy Dishcloths

 

🧶 If you've always wanted to crochet, you'll love this

 

dishcloth kit.

 

You'll stitch up a set of simple, and functional, dishcloths using a combination of single and double crochet for one and classic granny squares for the second. Dishcloths make great gifts, and if you're thinking about selling at craft fairs, these will be fun and easy to make!
Gift Labels

 

🏷️ Whether you're selling your handmade crochet goodies or you have a friend that does-

 

this free printable is adorable

 

and completes your handmade present perfectly. Everything Etsy has tons of other free printables for your handmade business, as well!
Cat Comedy

 

😻 If you need a quick break from kids and grand-kids, chores, crafting, or just life in general- here's

 

50 Of the Best Cat Posts

 

that you HAVE to see! I could not stop laughing at these friendly felines, and I had to put my work down to go spend time with my kitty.
Happy Podcasts

 

🏪 We're constantly looking for uplifting stories that are mood boosting when we've been secluded a little too long.

 

This is a list of wonderful podcasts

 

that you can turn on and just relax to. It's so relaxing to bring some much needed positivity right into your living room. 
Substitution Skills

 

🧶 We are all knitters and crocheters here so an important skill we all need to master is the art of substituting yarn! We often have so much yarn that we buy on discount or when we see one that we absolutely love- but then we're stuck without a pattern. We also have a pile of patterns that we want to work on and we might have to use a yarn that doesn't match the pattern perfectly!

 

This is a great resource for learning how to do just that- substitute yarn!
STITCHES SNIPPETS
👝 Here's 107 Stash Buster Crochet Patterns!
🌱Check out these 31 Pretty Pink Houseplants!
🧼 Make this Peppermint & Charcoal Detox Soap!
➰ 16 Practical Ways to Reuse Glass Jars at Home.
🛁 How to Make Tub Truffles (Bath Melts).
🧸 How to Avoid Gaps in Amigurumi.
JOIN THE STITCHES NEWSLETTER
Are you ready to get expert crochet and knitting patterns, pro tips, tools and resources sent right to your inbox?
Join over 220,000 other passionate crocheters and knitters by signing up to the Stitches Newsletter today. 
---