Rustic Farmhouse Knit & Crochet Afghan Patterns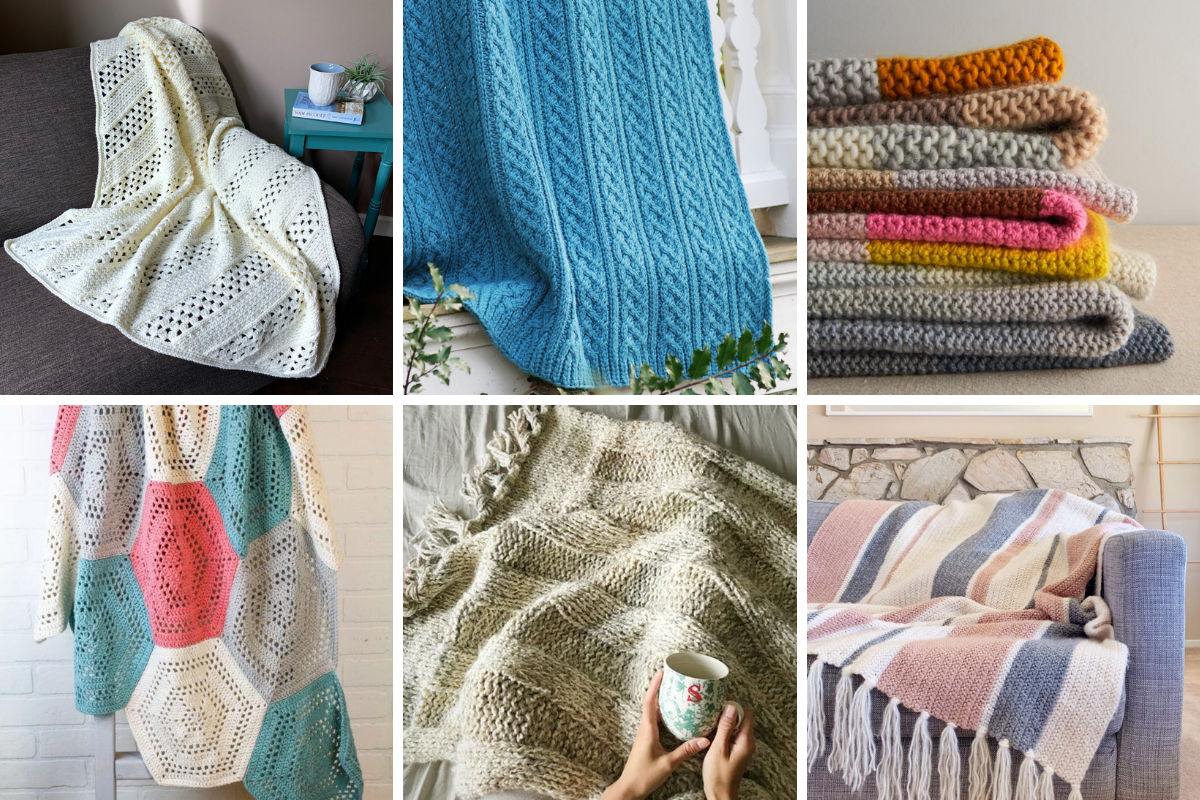 There is nothing that makes a house feel like a home quite like a handmade knit or crochet afghan. What we love most about them is the number of absolutely gorgeous knit and crochet afghan patterns that are out there to create.
Each and every afghan, crochet or knit, is made up of its own unique collection of stitches and designs. Create them with your favorite color palette and they are an item that will be cherished for years to come.
Because we love the new rustic farmhouse style that is so popular in home décor right now, we have found some beautiful knit and crochet blanket patterns to give your living space a touch of that comfy, cozy feel. 
Here we have gathered some of our favorite free crochet and knit afghan patterns.
CROCHET AFGHANS
On the Bias Square Afghan by A Crocheted Simplicity
There is no better Netflix-binge-watching project than a large, easy crochet blanket like this one from A Crocheted Simplicity. It is the perfect project for both seasoned and beginner crocheters alike. Not to mention, it would make a gorgeous addition to any living room with a rustic farmhouse feel.
Crochet Herringbone Half Mixed Stripes Throw by Daisy Farm Crafts
Daisy Farm Crafts has some of the best crochet afghans for our friends that love the farmhouse aesthetic. The Crochet Herringbone Half Mixed Stripes Throw boasts a simple color palette and is the perfect crochet blanket for the couch in your cabin! It gets its texture from the beautiful Herringbone stitch.
Hexagon Blanket by Winding Road Crochet
I can't resist a beautiful crochet afghan – especially one that is geometric. This Hexagon Crochet Blanket by Winding Road Crochet gives the feel of a vintage afghan created by your grandmother. What we love most is that this is a simple and easy crochet afghan pattern that can be worked up quickly. 
KNIT AFGHANS
Chunky Ribbed Knit Blanket by All About Ami
This beautiful knit afghan is another amazing blanket with a rustic feel. All About Ami never disappoints and the Chunky Ribbed Knit Blanket is no exception. The majority of this easy knit afghan pattern is made with Wool-Ease Thick and Quick and Homespun Yarn held together as one strand so it's extra thick and extra warm!
Cozy and Cable Rib Afghan by Knitting Board
This loom knit afghan pattern gives all of the feels for snuggling up by the fire in a rustic cabin or even in your farmhouse-style living room. What isn't to love about the Cozy and Cable Rib Afghan is a Knitting Board pattern? It would be a perfect first loom afghan knit pattern.
Super Easy Crib Blanket by Purl Soho
This Super Easy Knit Crib Blanket is a quick, soft, and totally gorgeous knit afghan. It's color-blocked with some really fun colors and, like always, Purl Soho has plenty of color combination suggestions right in the pattern. This pattern is so simple for a beginner knit pattern and will make the perfect blanket for the newest baby in your life!
STITCHES NEWSLETTER
So, what do you think? That's just a small sample of some of the amazing crochet, knitting and crafting content you'll find in our daily Stitches Newsletter. 
Looking for more? Check out more samples below of what you can look forward to every day when you sign up for the Stitches Newsletter…
THINGS WE LOVE
Cat Cup

 

🐱 Take your love for cats AND yarn on the go with this fun

 

Purrr Party Travel Mug.

 

Never feel guilty about stopping for coffee in the morning and take your coffee on-the-go! Not only will you be saving money and reducing the waste of paper cups, you will be sipping in style!
Printable Décor 🖼 It's so time consuming to find art that fits your homes aesthetic- and it can also be expensive, especially if you like to change around your décor pretty regularly.

 

This fun site has a bunch of different free options for printables.

 

It can save you quite a bit of money and it give you the freedom to change things up whenever you desire! Check out the collection by Little Gold Pixel. These will be easy to incorporate into any home!
Crafting Influencers

 

📸 Where are my dual crafters at? 🙋‍♀️ And that doesn't mean just knitting and crochet. From using a Cricut for paper crafts to restoring furniture, and repurposing. Look for some fun, new ideas?

 

Here are some of the best crafters and DIYers on Instagram.

 

Each of these crafters have amazing ideas and they all seem relatively simple!
New Collection

 

🧶 One of our favorite designers has officially released her newest collection with

 

Lion Brand. Two of Wands

 

is known for her trendy, beautiful, moody patterns. As always, the whole collection is absolutely beautiful!  
LYS

 

🏪 We love supporting local yarn shops!

 

The Mermaids Purl

 

is so sweet and has so many patterns, notions, and yarns! Enjoy shopping their online store!
STITCHES SNIPPETS
💐 Who else used to make terra cotta pots like this when they were little?
😍 Love = this easy loop pillow!
🚥Start your resin journey with this beginner's post!
🍷 These crafting blanks will encourage some more Cricut projects!
🩳 Calling all sewers: Your newest must-make project is here – adorable sleep shorts!
👶 Baby headbands are so simple to sew! Check out the pattern!
🧼 Stock up your kitchen with these amazing knit washcloths.
🧶 Check out this gorgeous knit zigzag stitch! WOW!
🌱 You don't have to worry about watering these crochet plants!
🐄 This is the sweetest little cow amigurumi pattern!
JOIN THE STITCHES NEWSLETTER
Are you ready to get expert knitting and crochet patterns, pro tips, tools and resources sent right to your inbox?
Join over 220,000 other passionate crocheters and knitters by signing up to the Stitches Newsletter today. 
---