Quick & Easy Crochet and Knit Shawls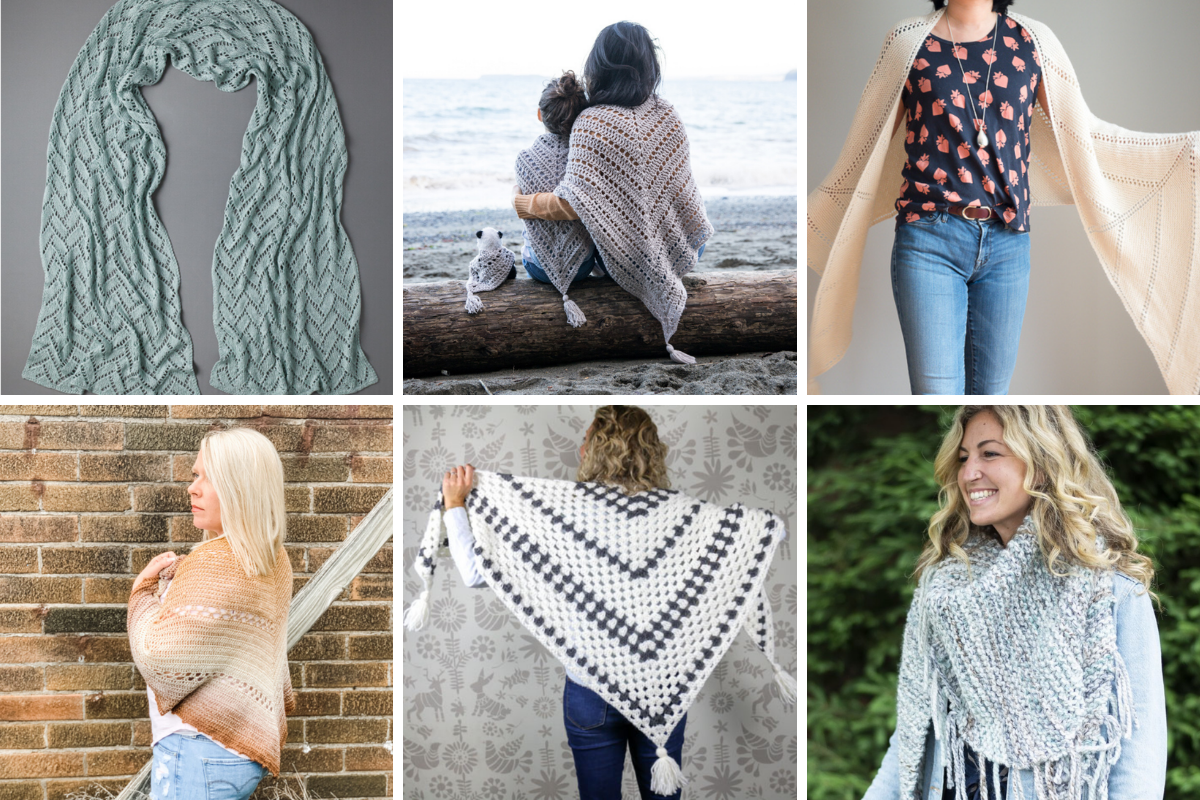 There is nothing more beautiful, or functional, to throw on with any outfit than a gorgeous knit or crochet shawl. Each and every crochet and knit shawl pattern is unique with their stitches and design.
Whether you need it for throwing on for chilly evenings, or for a formal event, you are sure to find a stunning shawl perfect for any occasion. What makes them a great project is that there are so many quick and easy crochet and knit shawl patterns available.
Here you will find some of our favorite shawl crochet patterns and easy how to knit a shawl projects.
CROCHET SHAWLS
Newsprint Granny Stitch Shawl by Make and Do Crew
Looking for a crochet shawl pattern that will keep you warm during chilly nights, or even colder days in the winter? This gorgeous Newsprint Granny Stitch Crochet Shawl pattern from Make and Do Crew is a must-have! The chunky crochet stitch and adorable tassels on the corners are the perfect combination for a crochet shawl you will be excited to throw on!
Hayden Wrap by Hooked Hazel
Another reason we love crochet knit shawls is their ability to add a touch of elegant flair to any outfit! Take this beautiful Hayden Wrap crochet shawl pattern by Hooked Hazel, it is light and airy with an ombre effect that can take the simplest white tee and jean outfit to the next level. The weight of this crochet shawl wrap is perfect for summer evenings that cool off just enough that you need an extra layer.
Crochet Triangle Shawl by Delia Creates
We adore the latest mother-daughter matching outfit trend! And don't forget the matching lovey too! The Crochet Triangle Crochet Shawl by Delia Creates is a great beginner crochet shawl pattern because it is a quick and breezy project. It is an easy crochet shawl pattern to follow, which makes it perfect for beginners.
KNIT SHAWLS
Berkshire Wrap by One Dog Woof
This oversized knit shawl pattern from One Dog Woof is the softest, coziest shawl wrap you will ever make! The intricate knit shawl pattern makes it one of the most beautiful, detailed knit wraps around! The Berkshire Knit Wrap Shawl makes a great project as it is made to be a beginner knit pattern.
Fringed Statement Shawl by Lion Brand
Another knit shawl pattern that was designed to keep you toasty warm is this Fringed Statement Shawl by Lion Brand. It's made with the always lovely Wool Ease Thick and Quick and is simple to stitch up and great as a beginner knit shawl pattern. Wool Ease Thick and Quick comes in so many great colors as well! You could make one for everyone in your family!
Wedding Shawl Pattern by Purl Soho
It's no secret that we love Purl Soho and they have so many beautiful knit patterns and they make the process even easier by offering different color options right in the pattern. This Wedding Knit Shawl Pattern is made with the color Blue Agave and it's seriously sweet. It offers the perfect drape to accessorize any summer outfit. A great knit shawl project for advanced or beginner knitters looking for easy, simple knit shawl patterns.
STITCHES NEWSLETTER
So, what do you think? That's just a small sample of some of the amazing crochet, knitting and crafting content you'll find in our daily Stitches Newsletter. 
Looking for more? Check out more samples below of what you can look forward to every day when you sign up for the Stitches Newsletter …
THINGS WE LOVE
Must Have Tool

 

🧶Check out this amazing

 

Designer Yarn Ends Weaver Tool! If you love doing all kinds of projects but don't love the finishing work on the projects, it's perfect for you. Weaving in ends, doing any edging, making pom-poms, or blocking can be so dull. It just adds so much time to an already complete project – but it is necessary for the perfect polished look. This

 

end weaving tool

 

will make finishing your work go so much faster and your weaved ends look so much better. It's inexpensive knit and crochet tool that's totally worth it!
Air Plants

 

🌱Who loves a good air plant?! They are so simple to take care of, cute, and well… simple! They add such an amazing aesthetic to any home!

 

This is a fun post on how to make a little holder for your air plant!

 

It's a simple little DIY and if you're creative- you're going to come up with so many different possibilities! Imagine finding some beautiful crystals and spray-painting your wire rose gold! So cute!
Simple Stretches

 

💪🏽 As crafters- one way we can do that is by ensuring that we are using sustainable yarns and making sure that our yarns come from animals that are taken care of! We

 

love this list of environmentally friendly yarns !

 

It feels good to knit using these supplies knowing we are saving our precious Earth.
Crochet Granny Squares

 

🌈These are not your grandma's granny squares!

 

Add an extra layer of texture and depth to your next project with these fun 3D granny squares! How fun would it be to make a happy nursery blanket with all rainbows and animals?
New Crochet Stitch 🧶 We didn't even know this

 

Catherine's Wheel Stitch

 

even existed but it's so cool! How fun would it be to make a crochet blanket project with this stitch  in an ombre color palette?
SNIPPETS
🧶 34 adorable things to do with leftover bits of yarn!
🧵 How to make a crochet flat slip stitch seam!
🌷 Learn how to crochet gorgeous pansies! 
💜 How to hand dye yarn with black beans!
🧶 8 knitting cast on methods you should learn!
🚿 How to make rosemary shower melts. 
🧺 Amazing DIY fabric baskets for your next organization project.
😀This Happy pillow is so cheerful!
JOIN THE STITCHES NEWSLETTER
Are you ready to get expert crochet and knitting patterns, pro tips, tools and resources sent right to your inbox?
Join over 220,000 other passionate crocheters and knitters by signing up to the Stitches Newsletter today. 
---