Modern Knit & Crochet Afghan Patterns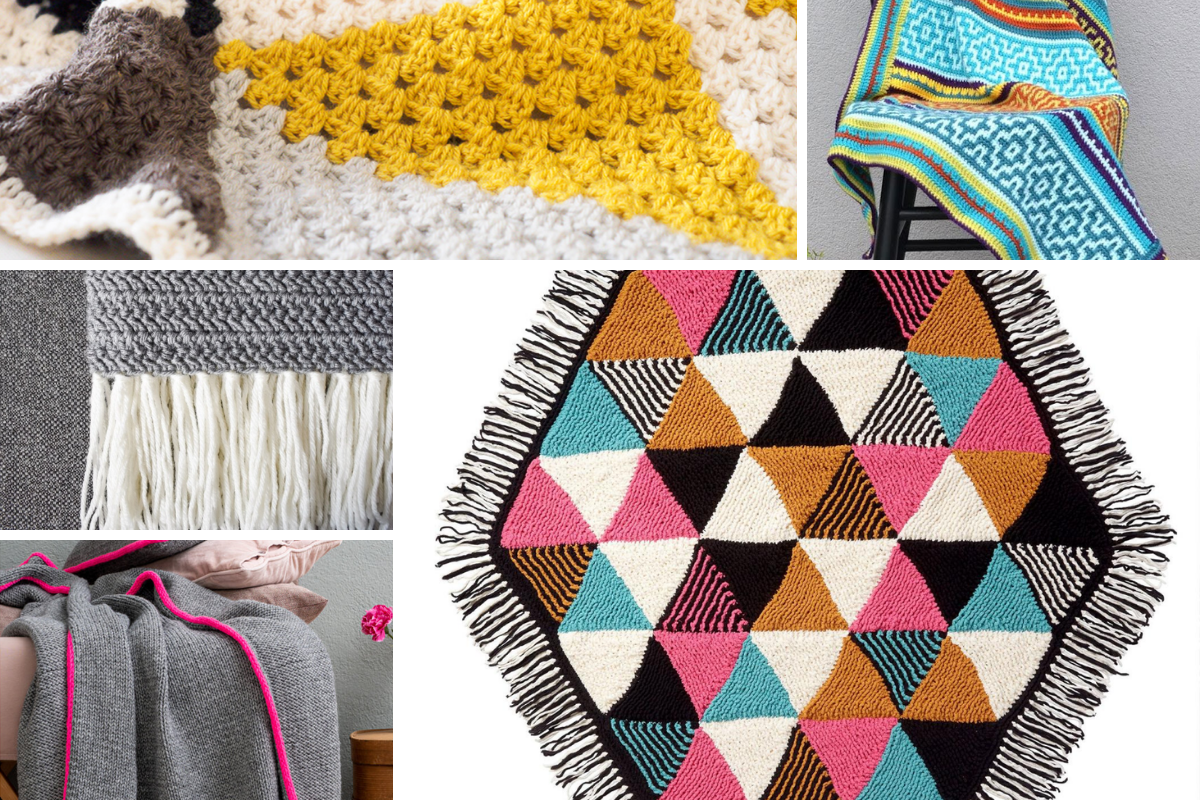 There is no knit or crochet project quite as beautiful nor satisfying as a knit or crochet afghan. These stunning blankets can add color and flair to any living room, and keep you and your loved ones warm and cozy. 
Some of the best blanket patterns out there are easy crochet and knit afghan projects featuring a modern design. They use bold colors and eye-catching geometric designs using simple knit and crochet stitches. 
Many modern blanket patterns feature a few simple, easy to learn stitches that are perfect for advanced or beginner knitters and crocheters.
We know you will love the collection of crochet and knit afghan patterns we have put together!
CROCHET AFGHANS
Modern Crochet Blanket by Only As Brave
We absolutely love the clean lines and bold, neutral colors of the modern home look. The Modern Crochet Blanket Pattern by Only As Brave is an amazing crochet blanket project to fit that theme. It has beautiful textures, amazing colors, and who wouldn't love the fringe detail? This is a simple crochet afghan with an easy to follow pattern that is definitely warm and practical!
Love Triangles Granny Stripe Baby Blanket by One Dog Woof
Bold and beautiful, geometric crochet blankets are very trendy right now. These crochet afghan projects are so customizable and can really accent a room! How adorable is this Love Triangles Granny Stripe Baby Blanket by One Dog Woof? Whether there is a new baby coming soon in your life or not, it makes a beautiful crochet afghan project anyone would adore.
Nya Mosaic Blanket by Lilla Bjorn Crochet
It is impossible not to love this stunning crochet afghan by Lilla Bjorn Crochet. The Nya Mosaic Crochet Blanket Pattern is made in a special technique with only basic crochet stitches involved. Whether you like to follow a chart or the written instructions, it is an easy crochet blanket project to work up even though it looks relatively complicated. In the end, you'll have a gorgeous croc
KNIT AFGHANS
Bente Blanket by Love Crafts
The Bente Knit Blanket Pattern is another beautiful knit project with clean, modern lines. This knit blanket is intricate and offers such a beautiful texture. How amazing are these colors and that fine weave in the stitching? The best part about this afghan pattern is that it's easy to learn and comes with a matching knit pillow pattern as well!
Bernat Knit Triangles Hexagon Blanket by Yarnspirations
When it comes to modern knit blanket patterns, we couldn't pass up sharing this gorgeous Bernat Knit Triangles Hexagon Blanket Pattern by Yarnspirations. The pop of bright colors with the black and white accent are oh-so eye catching. Not to mention the fun addition of a chic fridge border.
STITCHES NEWSLETTER
So, what do you think? That's just a small sample of some of the amazing crochet, knitting and crafting content you'll find in our daily Stitches Newsletter. 
Looking for more? Check out more samples below of what you can look forward to every day when you sign up for the Stitches Newsletter…
THINGS WE LOVE
Clean Air

 

💨 There are so many ways to keep the air quality in your home but these are some of the best! From plants to purifiers, there are so many great ways to help keep allergens away.

 

This is a great resource for all of the best ways to keep the air clean around your house! 
Fiber Embroidery

 

🧶We love creating amazing projects out of knit and crochet items. The best way to do this is with embroidery!

 

Martha Stewart has this amazing post on how to embroider on these projects!

 

Look around your house to see what crochet and knit blankets, bags, and more can be enhanced with this new skill!
Slime Recipes

 

😍 Like it or not, slime is back on the scene as one of the most popular toys for the littles in your life. Want to make playtime even more fun? Try some of these

 

fun slime recipes

 

for a DIY playtime!
Fun Shirt

 

👚 Is there any better way to show your love for your craft than wearing it around on the daily! It never hurts to show off your humorous side while you're at it. Sorry hubby, but we really need this

 

Will Trade Husband for Yarn

 

tee!
Tomato Tacos

 

🍅 Are you trying to reduce your carb intake? We love how many delicious options are out there to try!

 

These tomato tacos look amazing, healthy, and light, just in time for garden fresh crops.
JOIN THE STITCHES NEWSLETTER
Are you ready to get expert crochet and knitting patterns, pro tips, tools and resources sent right to your inbox?
Join over 220,000 other passionate crocheters and knitters by signing up to the Stitches Newsletter today. 
---