Knit & Crochet Baby Blankets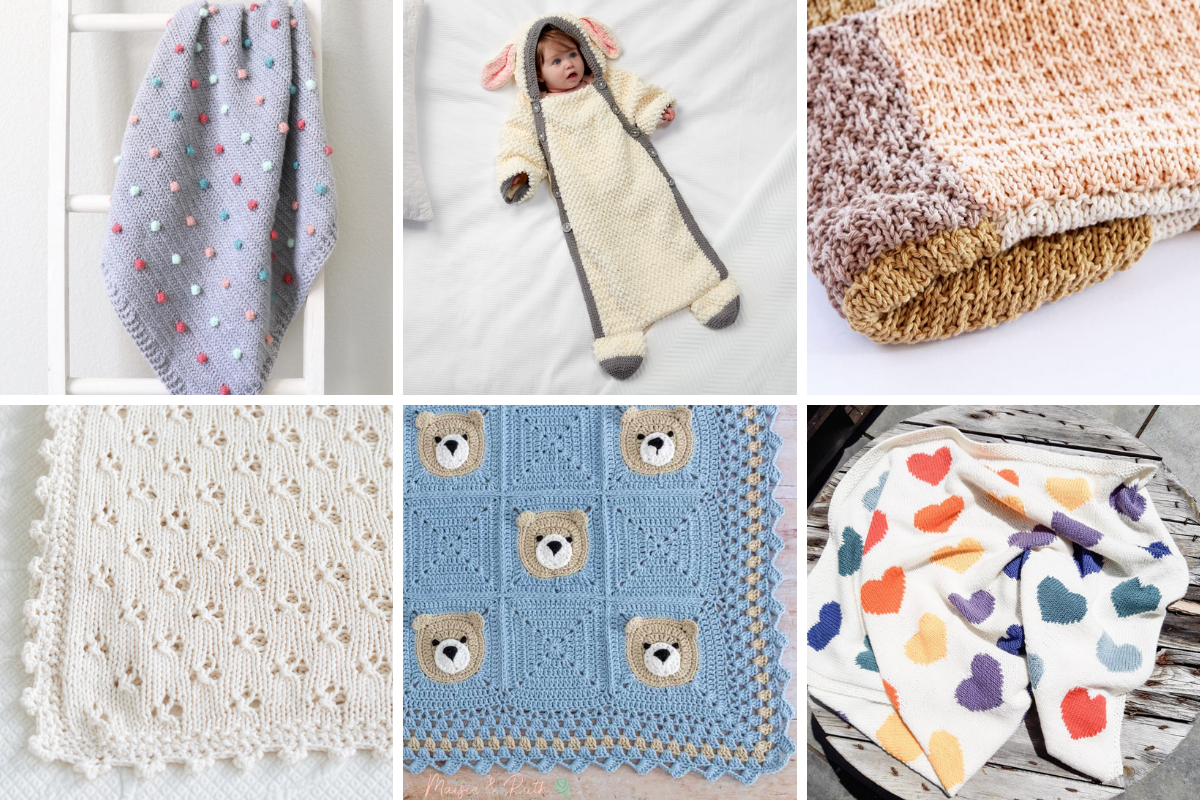 One of the most popular knit and crochet patterns is the coveted baby blanket. They are a simple and easy project to make up and they make the perfect gift for any new baby in your life.
Each and every crochet and knit baby afghan is unique because of the combination of gorgeous stitches in the pattern and, of course, the color palette you choose. 
Whether you follow the new parent's color scheme or stay with a neutral look, you are guaranteed to create a gift they will cherish forever.
Here are some of our favorite knit and crochet baby blanket patterns. Good luck choosing just one to start on today!


CROCHET BABY BLANKET PATTERNS
What's not to love about adorable baby stuff? There are so many precious crochet patterns out there for little ones, including the crochet 
Sheep Sleep Sack.
 It is comfy, cozy, and would be the perfect gift for someone welcoming a new bundle of joy into their lives.
The
Colorful Polka Dots crochet baby blanket by Daisy Farm Crafts
would make the perfect addition to a kid's room or nursery! It is playful and fun and a modern take on a traditional baby afghan. Using basic crochet stitches and the cute bobble stitch technique, you can easily customize this blanket to your preferred color palette.
Bear Crochet Baby Blanket by Maisie and Ruth
There is no cuter keepsake gift than a baby's first teddy bear. Except, maybe, this adorable Bear Crochet Baby Blanket! Put together with crocheted squares and a beautifully intricate border, this afghan comes together quickly and easily. If you just can't get enough of this pattern, try out the matching crochet patterns for a onesie, booties, rattle, and pixie bonnet.
KNIT BABY BLANKET PATTERNS
Cotton Baby Blanket by Handy Little Me
If you're a new knitter looking for a beautiful baby blanket pattern to create, this Cotton Baby Blanket by Handy Little Me may just be the one for you. The only stitches required are the garter stitch, an increase, and knit two stitches together. With that being said- there's no reason you can't whip this knit project up real quick!
Knit Baby Blanket by Nourish and Nestle
While we adore cutesy, baby-themed knit patterns just as much as the next person, we also love simple, classic knit projects like this Knit Baby Blanket from Nourish and Nestle. With three simple knit stitches, you will have a lacey, delicate masterpiece to gift to the newest baby in your life. What's even better, this knit baby afghan grows up well along with the precious little one, making it a gift that is cherished for years to come.
Zoe Baby Blanket by Lille Larsen
Every new baby deserves to be surrounded by love. The Zoe Knit Baby Blanketby Lille Larsen has all the feels of an adored little one. The simple, easy knit pattern is great for both advanced and beginner knitters.
STITCHES NEWSLETTER
So, what do you think? That's just a small sample of some of the amazing crochet, knitting and crafting content you'll find in our daily Stitches Newsletter. 
Looking for more? Check out more samples below of what you can look forward to every day when you sign up for the Stitches Newsletter…
THINGS WE LOVE
Crochet Cardigan

 

🧶 Charming Vesna motifs and distinctive shaping make the

 

Sunday Morning Crochet Cardi

 

easy to wear yet sophisticated. Throw it on over any outfit for just the right touch. It's perfect for lunch with friends, an evening out or a walk on the beach.
Boho Bottle Holder

 

🍷 This pattern is so sweet! It makes such a fun, one-of-a-kind housewarming gift!

 

This crochet pattern

 

can be worked up in an afternoon or two! Pair this with a nice bottle of wine and you're all set!
Best Books

 

📚  Where are our book lovers? This list is great

 

for those of you that like to settle into the couch with a coffee and end up on the edge of your seat. 
Pineapple Plant

 

🍍  Have you ever had a dream of growing your very own pineapples? Who knew it was possible?

 

This post and these pineapple plants

 

give us hope that one day we can make this dream come true! 
Comforting Facts

 

💭 Did you know Mr. Rogers' mom knitted all of his sweaters that he wore on camera? It is just one of the many random

 

happy facts

 

we found!. They make us feel good. They give us hope. They just make us happy. This list is full of good news.
STITCHES SNIPPETS
🐚 DIY Beach Sunset Paint Pour Coasters to bring the beach to your house!
👡 These DIY Canvas Shoes are the cutest ever!
⭐This Star Stitch Valet Tray is adorable and easy to make!
💮 Make a Mason Jar Hand Pump Soap dispenser!
🦉 Learn how to make a macrame owl plant hanger.
🧵 A tutorial to teach you how to sew your own floor pillows.
👶 Knit this soft 'n comfy baby blanket for the little one in your life.
🌸 A lacy and light flower crochet scarf pattern.
🧶 How to crochet a flat slip stitch seam.
👚  Are you ready to start making sweaters yet? This crochet magic stripe sweater is your perfect new project! 
💧  Do you block your projects? Here's a wet blocking tutorial!
💐  How to knit a market bag for all of your fresh veggies this summer.
JOIN THE STITCHES NEWSLETTER
Are you ready to get expert crochet and knitting patterns, pro tips, tools and resources sent right to your inbox?
Join over 220,000 other passionate crocheters and knitters by signing up to the Stitches Newsletter today. 
---