Knit & Crochet Amigurumi Animals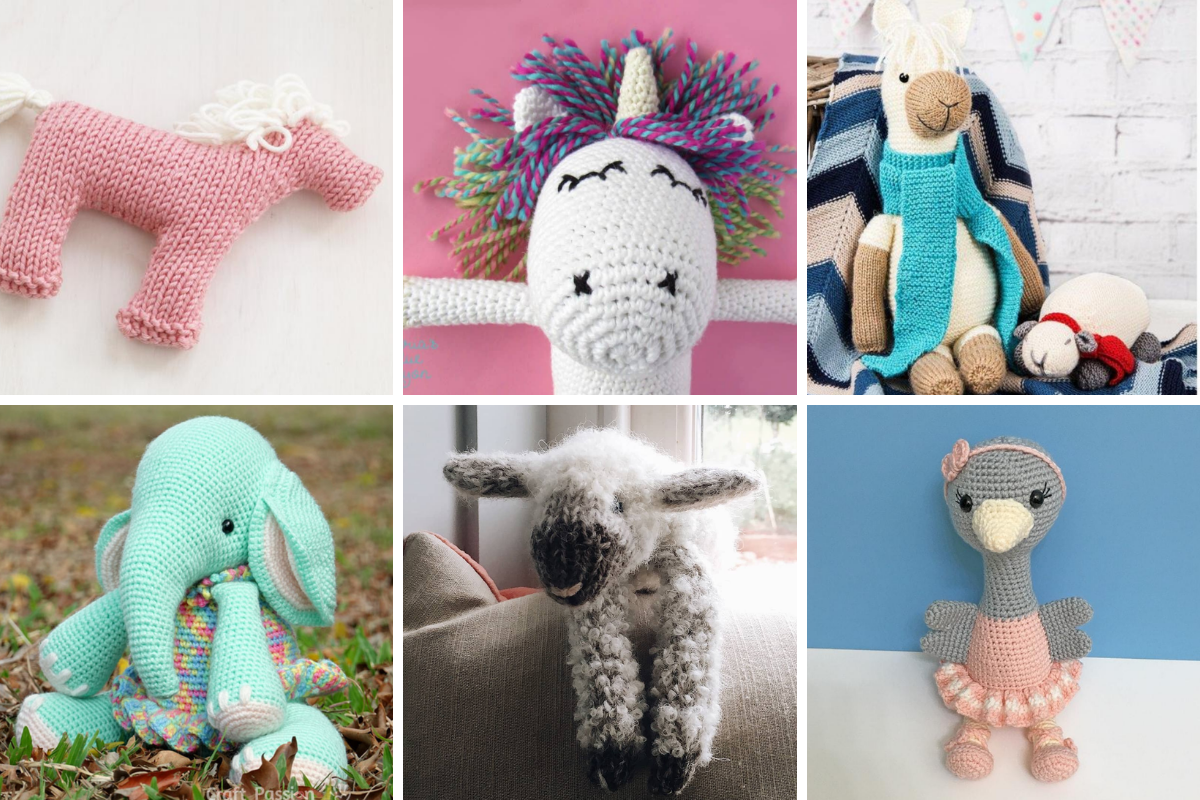 The world of knit and crochet patterns has been taken over with the rise of the Amigurumi. 
What is Amigurumi? It is the Japanese art of crocheting or knitting small, stuffed yarn creatures, sometimes misspoken, or misspelled, as amigami. No matter how you say it, they are downright adorable.
The creatures featured in crochet or knit Amigurumi patterns range anywhere from your everyday pets to mythical creatures, even favorite TV or movie characters.
We have gathered a collection of some of the cutest crochet and knit Amigurumi patterns. You won't be able to choose just one to create!
CROCHET AMIGURUMI PATTERNS

Eloise the Unicorn by Maria's Blue Crayon
 Do you have a unicorn lover (or more) in your life? We have no doubt that Eloise the Unicorn Crochet Amigurumi Pattern by Maria's Blue Crayon will become their favorite unicorn of all! Not only is she cute and cuddly, her crazy yarn hair is downright magical. She would be a fun and inspiring crochet animal pattern for any beginner to try their hand at, and a great gift from any advanced crocheter.

Elephant Amigurumi by Craft Passion
Did you know that elephants stay together in their family groups all of their lives? Once you create this adorably snuggly Elephant Crochet Amigurumi, you will understand why you can't live without her. All of her precious crocheted details make her so unique, from her ears to her feet, and her girly girl dress. And if you think she's adorable, wait until you see her diaper-wearing brother! You can find him here on Craft Passion. Trust us, you won't be able to make only one of them!
 Ballerina Ostrich by Grace and Yarn
If you have a little ballerina in your life, you can't really say no to making them this sweet girl! This Ballerina Ostrich Crochet Amigurumi Pattern by Grace and Yarn is so cute and simple! Any little girl would love her as a gift. From her perfectly stitched crochet headband, to her ruffley tutu and matching ballet slippers!
KNIT AMIGURUMI PATTERNS
Knit Lamb by From Britain with Love
Speaking of our favorite knit amigurumi patterns, this one is at the very tippy-top of our list. The Knit Lamb Amigurumi Pattern by From Britain with Love is so sweet and fluffy! She's made so perfectly with a few different kinds of alpaca, so you know she is irresistibly soft and fuzzy! She makes an easy knit project for any knitter, beginner to advanced.
Rosy Pony by Lion Brand
If you are a beginner looking to begin your knit amigurumi animal journey, the Rosy Pony Knit Pattern by Lion Brand is seriously adorable and the perfect. While Rosy looks like a simple toy, in our eyes she brings with her a classic knit toy feel that brings back some nostalgia of our younger years.
Pax the Alpaca by Love Crafts
Check out this adorably dapper little knitted guy! Meet Pax the Alpaca Amigurumi Doll by Love Crafts. This is an intermediate knit amigurumi pattern so be prepared for a bit of a challenge but we promise Pax is totally worth the extra knit stitches!
STITCHES NEWSLETTER
So, what do you think? That's just a small sample of some of the amazing crochet, knitting and crafting content you'll find in our daily Stitches Newsletter. 
Looking for more? Check out more samples below of what you can look forward to every day when you sign up for the Stitches Newsletter…
THINGS WE LOVE
Mystery Must-Have

 

🕵🏽‍♀️ There's something about a mystery grab bag that is so irresistible! You never know what you're going to get, which is the whole point, right?

 

WeCrochet is sharing their mystery bags right now

 

and while this one might be wool, they are constantly changing their selections! And the best part is that the selection is listed at a discounted price! Don't miss out on this exciting opportunity to surprise yourself! 
LYS

 

🏪 We can't get enough of local yarn shops. Forbidden Fiber Co. is an adorable company with seriously amazing colorways. With collections like Harry Potter, Beauty and the Beast, and the Wizard of Oz, the selection at

 

Forbidden Fiber Co.

 

is truly magical. 
Happy Songs

 

🎶 We are always fascinated how science can prove amazingly, unnecessary things. This is

 

a great article on the 10 (scientifically proven) happiest songs

 

ever recorded! Next time you want to sit down and knit or crochet to decompress- consider playing these songs while you do! You're almost guaranteed to be happy when you do! Naturally, "Girls Just Wanna Have Fun" is on the list!
Best Gifts

 

🎁 Steel water bottles are super popular right now, especially for the eco-conscious folks. What makes

 

this bottle

 

the best for any fellow fiber artist is the hilarious "Will Trade Husband for Yarn" design! Make sure you order one for yourself too!
Healthy Foods

 

🥑We are on a lifelong journey to become the healthiest, happiest versions of ourselves. To ensure that we are caring for our bodies in the best possible ways, we know what we fuel it with is important.

 

This is a scientifically proven list of the healthiest foods to fuel your body.
STITCHES SNIPPETS
🦒 We are loving this crochet giraffe afghan pattern!
🐝 This Hexie Bee crochet throw blanket is the perfect gender neutral baby gift!
🔥 This will be the coziest knit shawl you will make all year!
😻 Stitch up this free cat bed knitting pattern for your favorite feline!
✉️ Dress up your home decor with this DIY envelope pillowcase tutorial!
🗑️ Don't waste a single fabric scrap!
📦 100 different crafting blanks for your small business that you can get on Amazon Prime!
🛑 10 mistakes Cricuters make and how to fix them
JOIN THE STITCHES NEWSLETTER
Are you ready to get expert crochet and knitting patterns, pro tips, tools and resources sent right to your inbox?
Join over 220,000 other passionate crocheters and knitters by signing up to the Stitches Newsletter today. 
---