Fun & Easy Knit and Crochet Slipper Patterns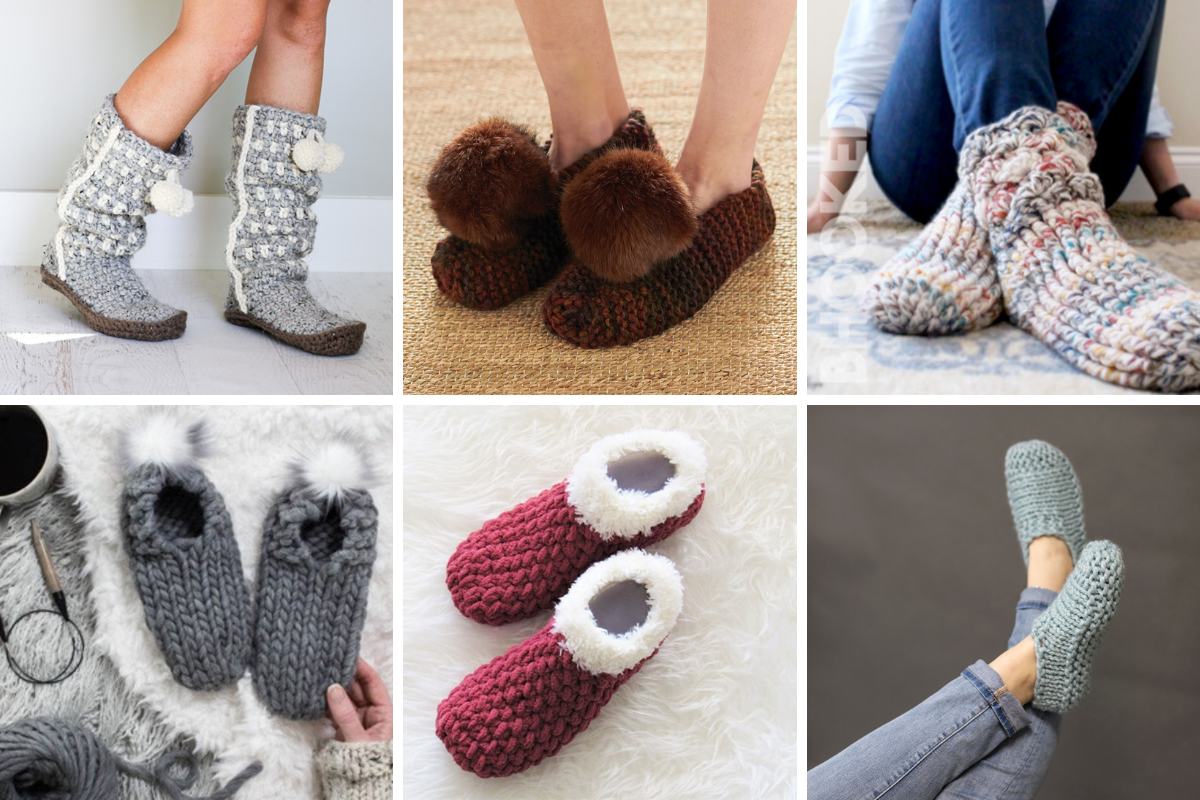 There is nothing better at the end of the day than swapping out your work shoes for a comfy, cozy pair of slippers. Why not make some unique and easy knit or crochet slippers of your very own?
Handmade knit or crochet slippers also make the perfect gift for everyone! You can easily learn how to crochet or knit slippers with these easy crochet and knit slippers patterns for adults, children, women, and men.
Slippers are a classic crochet or knit project that can help you develop your skills while making a useful, comfortable wardrobe essential. Generally, knit and crochet slipper patterns are quick and easy to make and are also easy on the budget. 
Here you are sure to find a knit or crochet slipper pattern that you won't be able to wait to start on!
CROCHET SLIPPERS
Cozy Crochet Slippers by B. Hooked
Crochet and Knit Slipper Socks are a must in the chilly fall and winter months. Not to mention, the more socks I can gift to loved ones the better! These Cozy Crochet Slippers by B. Hooked are the perfect crochet slipper socks that make up quickly.
1.5 Hour Chunky Slipper by Crochet Dreamz
Looking for a quick and easy crochet slipper pattern that you can whip up in no time? The 1.5 Hour Chunky Slipper by Crochet Dreamz is the perfect crochet project! They are oh-so soft and squishy and simply adorable with their chunky design. Make a pair of these crochet women's slippers for all of the ladies in your family. 
Sierra Easy Crochet Slippers by Make and Do Crew
In our humble opinion, you can never get started on creating gifts for everyone on your Christmas list too early. Every girl, young and old, on our list has Crochet Ugg style slippers on their wishlist. Lucky for them, the Make and Do Crew has the perfect crochet slipper project just for them! The Sierra Easy Crochet Slippers are fun, cozy, and simple to make.
KNIT SLIPPERS
Gray Day: Simple Slippers by Brome Fields
There is nothing cozier than a pair of chunky knit slippers! From the gorgeous, simple design to the adorable pompom accessory, the Gray Day: Simple Slippers by Brome Fields are the perfect knit project! What we love most about this knit slipper pattern is that it is a simple, one-skein wonder. Turn on your favorite binge show on Netflix and you will have these done in no time!
Basic Chunky Slippers by Patons
Speaking of adorable, chunky knit slippers, say hello to the Basic Chunky Slippers by Patons! These beginner-friendly knit slippers are the perfect project for anyone new to the knit scene. And the end result is simply adorable knit slippers you will want in every color for wearing around the house! Your loved ones will be begging you to make them a pair.
Cloud Slippers by Adrienne Sullivan
Looking for a great beginner knit slipper pattern? These Cloud Slippers by Adrienne Sullivan are the perfect easy knitting project! These knit up quickly with just one ball of yarn and make soft and cozy knit slippers for everyone in your home. 
STITCHES NEWSLETTER
So, what do you think? That's just a small sample of some of the amazing crochet, knitting and crafting content you'll find in our daily Stitches Newsletter. 
Looking for more? Check out more samples below of what you can look forward to every day when you sign up for the Stitches Newsletter…
THINGS WE LOVE
Dusting Mitt Crochet Pattern🦙 There's a few different ways anyone can get my tiny person to help with chores without a battle – make it fun (and adorable!) Why not make your kiddos a

 

 little Llama Dusting Mitt? They won't be able to WAIT to help on cleaning day!
Self-Care Rituals

 

🧘🏽‍♀️ Have you been considering adding a whiskered friend to your home? Here is a list of some of the

 

most popular cats

 

to consider!
Houseplant C2C

 

🌱 Houseplants are giving us some new trends! From houseplants to print fabrics to this

 

adorable houseplant C2C blanket,

 

we are just loving the calming vibes they give off so we are totally here for a cool corner to corner crochet house plant project. This kit is a Lion Brand kit and it's a simple pattern that will surely be super soft!
Creepy Crochet

 

👾  This amigurumi crochet artist is seriously so interesting! She focuses on some strange and creepy stuff, but she's so talented. Her website is

 

Tales from the Stitch

 

and her work is truly amazing!
One-Pot Dinners

 

🍴 Who doesn't love simple and easy weeknight dinner ideas? Have you tried One-Pot Dinners?! They are seriously amazing! No more washing cutting boards, mixing bowls, and baking dishes. Just one pot and some wonderfully delicious food! You won't be able to wait to add these

 

one-pot meals

 

to your weekly menu.
SNIPPETS
🍎 Spoil your kiddos' teachers with these crochet gifts.
💐 Crochet these lavender bags and keep your life smelling so sweet!
🌈 A rainbow wall hanging is the perfect addition to a nursery!
🐉 This mini dragon amigurumi pattern is adorable!
👖 Can someone design a pattern for these patchwork pants? So cute!
☕ This caramel coffee bomb looks so delicious!
🐟 Air fryer salmon that is simple and healthy!
😍 Check out this knit hoodie pattern – we are in love!
🎒 Need a backpack for your little one? This toddler backpack is adorable!
JOIN THE STITCHES NEWSLETTER
Are you ready to get expert crochet and knitting patterns, pro tips, tools and resources sent right to your inbox?
Join over 220,000 other passionate crocheters and knitters by signing up to the Stitches Newsletter today. 
---